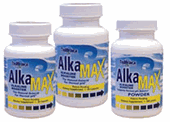 Full price 19.95
Savings 20%
AlkaMax MultiForce Alkaline Powder(200 g)
This product has been discontinued.
Seacoast recommends an excellent replacement. Click here.

Sorry! This item has been discontinued. See below.
200g, A MultiForce Alkaline Powder
A lack of proper PH Balance in the body can lead to a variety of uncomfortable or limiting health problems for many people. There are multiple contributors to the body's overactive acid levels such as eating too much meat, sugar, and soda; and intense levels of stress. Excessive acid levels can cause painful indigestion, heartburn, and stomach ulcers. Lactic acid build-up in the muscles can cause muscle soreness and fatigue, prohibiting athletes from reaching their maximum physical potential. Too much acid in the body can lead to many other physical detriments such as premature aging, wrinkles, weak resistence to illness, soreness, and fatigue. AlkaMax by TriMedica works to reduce excessive acid levels in the body by restoring long-lasting alkaline balance. This all-natural, nutritional supplement fights acid build-up while promoting overall health and supporting healthy function of the body's systems. AlkaMax diminishes the effects of damaging acid and boosts energy, endurance, and a healthy immune system.
There are numerous over-the-counter antacids that help to relieve the pain of heartburn and indigestion. However, these remedies work by reducing the hydrcholric acid your body requires for healthy digestion. AlkaMax relieves the symptoms of excessive acid by naturally restoring your PH balance. It doesn't just treat your symptoms, AlkaMax gets to the root of your acid problem by balancing acid/alkaline levels throughout your entire body. This approach preserves your ability to digest food effectively and it promotes overall health while relieving pain and discomfort. AlkaMax is a unique alkaline nutrient formula that is patent pending for its valuable ability to improve health and squelch burning acid build-up and pain throughout your entire body. Stop indigestion and heartburn and increase your energy and physical wellness with all-natural, antacid AlkaMax today. You should always consult your doctor before taking any new medication or supplements. AlkaMax contains potassium, which could could interfere with some heart medications and diuretics.
Benefits:
Relieves heart burn and indigestion
Promotes healthy digestion
Boosts energy and endurance
Supports a health immune system
Restores proper PH balance to entire body
SUPPLEMENT FACTS

Serving Size: 1 Teaspoon

Servings Per Container: 40

Amount Per Serving
% Daily Value*
Proprietary blend
4150

mg
**
Potassium (as potassium bicarbonate)
600

mg
17%
Glycine
Citric Acid
Licorice (Glycyrrhiza glabra) (root)
*Percent Daily Values are based on a 2,000 calorie diet.
**Daily Value not established.
Suggested Use: Mix one teaspoon in water one to two times daily or as directed by your health practitioner. Discontinue use after reaching a consistent evening alkaline reading (pH 7.0 - 7.5). Resume use if acidic evening readings return.
Warning: This product contains potassium and licorice which may interfere with certain types of heart medications and diuretics. Those individuals using such medications should use this product only under the supervision of a medical professional. Do not use if you have high blood pressure or a history of heart disease.
Compare to these:
---
Questions and answers:
Asked on:
January 23, 2013
Question: can you take this product if you are pregnant?
A: Thank you for your interest in AlkaMax Multi-force Alkaline Powder. It is always best to consult your medical professional when pregnant or suffering from any medical condition to confirm that it is safeness of this product with your condition.
Explore More Products