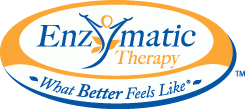 Enzymatic Therapycid Ease Digestive Formula for Sensitive Stomachs- 180 veg capsules
Digestive enzymes plus soothing herbs for sensitive stomachs.
Acid-Ease is specifically designed for individuals with sensitive stomachs. Taken with or between meals as needed, Acid-Ease combines Pure Plant Enzymes™ with gamma oryzanol (found naturally in rice bran), slippery elm bark, and marshmallow root extract in a soothing supplement for relief of stomach upset, indigestion, and occasional heartburn.
Slippery elm and marshmallow root are herbs traditionally used for their soothing effects on mucous membranes in the intestines. Combined with plant-based enzymes, the right supplement can provide soothing relief. This unique formula provides digestive enzymes that help break down and absorb foods.
Benefits:
Digestive Support
For Sensitive Stomachs
Vegetarian
Directions: 2 capsules three times daily at the beginning of meals. Acid-Ease may also be taken as needed between meals.
Supplement Facts
Serving Size: 2 Capsules
Serving Per Container: 90
Amount Per Serving
% DV
Total Carbohydrate
<1 g
<1%†
Marshmallow Root Extract
200 mg
**
Slippery Elm Bark
200 mg
**
Active Enzymes‡
amylase, lipase, and cellulase
182 mg
**
Gamma-Oryzanol (from rice bran)
150 mg
**
†Percent Daily Values (DV) are based on a 2,000 calorie diet.
**Daily Value not established.
‡Active Enzymes (Per Serving)
Assay Method
Activity
Amylase
FCC (pH 4.8)
11,900 DU
Lipase
FCC III (ph 6.5)
67 FIP
Cellulase
FCC (pH 4.5)
Other Ingredients: Plant-derived capsule (hypromellose), cellulose, ascorbyl palmitate.
Contains wheat and soy.
Contains NO: sugar, salt, yeast, dairy products, artificial colors, flavors, or preservatives.
What is the benefit of gamma-oryzonal?
Gamma-oryzanol, from rice bran, has been shown to safely and effectively support the health of the digestive system.† Research indicates that supplementation with gamma-oryzanol can provide soothing support for the stomach and intestines. In experimental studies, it has been shown to have protective effects on stomach tissue in the presence of stress and sleep disturbances.† In a clinical trial, 78% of people receiving 300 mg of gamma-oryzanol per day rated it as "moderately" to "extremely" effective.
Why doesn't Acid-Ease contain protease?
Acid-Ease®† provides amylase (digestive enzymes that break down carbohydrates), lipase (enzymes that break down fats), and cellulase - an enzyme that digests plant fibers. Protease is an enzyme that digests protein.
The formula was designed to provide relief to individuals who experience occasional heartburn. Because protease is known to cause irritation of the stomach lining in some sensitive individuals, the enzyme has not been included in the Acid-Ease.
*Not intended to diagnose or treat diseases or ailments, and is not reviewed by the FDA.
Uses & Indications.
Safely Balancing Ph Levels In Stomach
Soothing Upset Stomach
Supporting Full Digestion And Absorption Of Nutrients
Ailments & Concerns.
Gas & Bloating
Sour Stomach
Indigestion
Acid Reflux
Compare to these:
---
Questions and answers:
Asked on:
March 23, 2016
Question: Are there any side effects,I take thyroid medicine also Valium when I get bad headaches and also have celiac.
A: Acid Ease is specially formulated for those who suffer with digestive issues and need assistance breaking down and absorbing sugars, fats and proteins. Digestive disorders may provide symptoms such as stomach upset, fatigue, bloating, diarrhea, headache and constipation. Acid Ease is formulated with pure plant enzymes including marshmellow root for soothing relief of the stomach. Acid Ease is Gluten Free important for those who suffer from Celiac disease and follow a gluten free diet. Pregnant, Nursing and Individuals on prescription medication may want to check with their Health Care Practitioner before beginning new supplementation.
Explore More Products