Women's B Complex
60 Instant Dissolve Micro Tablets
B-Complex vitamins are essential nutrients for good health. B vitamins are of major importance in many physiological functions, including energy production and nutrient metabolism, as well as the overall health of all systems in the body. Since B vitamins rely on each other to carry out their health functions, it is recommended that they be supplemented as a group, or complex, to provide optimum benefits and to avoid a nutritional imbalance. Several factors that can rapidly deplete your body's stores of B vitamins are: poor diet, smoking, regular consumption of alcoholic beverages, certain prescription drugs, and chronic stress.
Women's B-Complex is specially formulated with extra B-12 and Folic Acid to provide you with the nutrients your body needs. Folic Acid is necessary for the production and maintenance of new cells, which is especially important during periods of rapid cell division and growth such as infancy and pregnancy. It also supports nervous system health and energy metabolism. When combined with B-12 and B-6 it can also promote heart health.
Supplement Facts
Women's B Complex
Serving Size: 1 'Instant Dissolve' micro tablet
APS
%DV
Vitamin B-1 (Thiamine Mononitrate)
15 mg
1,000%
Vitamin B-2 (Riboflavin)
15 mg
880%
Niacin
15 mg
76%
Vitamin B-6 (Pyridoxine HCL)
15 mg
750%
Folate (Folic Acid)
800 mcg
200%
Vitamin B-12 (Cyanocobalamin)
1,000 mcg
16,660%
Biotin
600 mcg
200%
Pantothenic Acid (d-cal. Pantothenate)
20 mg
200%
P.A.B.A. (P-aminobenzoic acid)
10 mg
*
Stevia Leaf Extract
3 mg
*
*
*
* Daily Value (D.V.) not Established
Other Ingredients: Lactose (milk), Natural Cherry Flavor, Acacia Gum
Suggested Use: Dissolve two tablets under the tongue daily as a dietary supplement. May also be swallowed as you would a regular tablet.
**These statements have not been evaluated by the FDA. This product is not intended to diagnose, treat, cure or prevent any disease.
*Not intended to diagnose or treat diseases or ailments, and is not reviewed by the FDA.
Uses & Indications.
Help Defeat Stress And Depression
Boost Energy And Metabolism
Protect Heart And Cardiovascular Heath
Maintain Optimum Health
Ailments & Concerns.
Cardiovascular Disease
Weak Immune System
Depression
Stress
Slow Metabolism
Compare to these: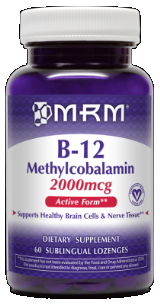 Metabolic Response Modifiers
Reviews
Tuesday 19 April, 2011
A great way to introduce B Vitamines, good for my hair, nails and skin.
Thursday 25 March, 2010
Womens B Complex does dissolve instantly under the tongue, much easier to take, since taking it on a regular basis my skin looks better & my nervous system appears to show signs of improvement.
Saturday 13 February, 2010
Womans B Complex has helped maintain my healthy skin, hair & nails. Also they dissolve quickly.
Saturday 10 October, 2009
Women's B Complex is the highest combined dose that I have found. Tablet dissolves quickly, plus this product is preservative free.
Explore More Products