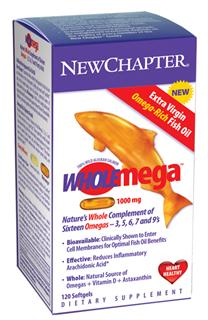 Full price 55.95
Savings -0%
Wholemega (1000mg 120 caps)*
This product has been discontinued.
Seacoast recommends an excellent replacement. Click here.

Sorry! This item has been discontinued. See below.
New Chapter
Wholemega | 1000mg | 120 caps.
New Chapter is proud to offer a whole-food approach to fish oil and an alternative to the fractionated, highly processed and "purified" oils on the market today. From the pristine, protected waters of Alaska directly to you, Wholemega is 100% wild-caught salmon oil; rigorously tested to ensure each capsule delivers Nature's bioavailable, effective, and whole profile of beneficial fatty acids and nutrients.
Natural salmon oil contains a balance of vital Omega 3, 5, 6, 7 and 9's, often referred to as "good fats." These good fats, which include two essential fatty acids the human body cannot produce on its own, serve to nourish brain, heart, eye, and kidney tissues.* They have been shown to benefit cardiovascular, immune system, brain, and digestive health.* Wholemega® is sourced from 100% sustainably caught Alaskan wild salmon oil – from fisheries recognized for ocean stewardship and sustainability. The oil in Wholemega is so pure and untainted, it is delivered from a "food grade", government inspected facility. It's our promise of healthy, and pure, food to you.
A Whole New Approach To Fish Oil
Omega Oils & Optimal Health
Bioavailable: Clinically Shown to Enter Cell Membranes for Optimal Fish Oil Benefits
Effective: Helps Restore Natural Balance of Omega-3 to Omega-6*
Whole: Natural Source of 16 Omegas + Vitamin D + Astaxanthin
Sustainable & Naturally Pure
Suggested use:One softgel two times daily. For best results, take one softgel immediately before your two largest meals.
Supplement Facts
Wholemega 1000 mg
Serving Size:2 softgels
APS
%DV
Calories
20
Calories from Fat
18
Total Fat
2000 mg
3%
Saturated Fat
480 mg
2%
Monounsaturated Fat
840 mg
*
Polyunsaturated Fat
680 mg
*
Cholesterol
15 mg
5%
Vitamin D
100 IU
25%
Total Omega-3 Fatty Acids
420 mg
*
EPA (Eicosapentaenoic Acid)
180 mg
DHA (Docosahexaenoic Acid)
200 mg
Other Omega-3 Fatty Acids (Linolenic Acid, Heneicosapentaenoic Acid)
40 mg
Total Omega-5 Fatty Acids (Myristoleic Acid)
1 mg
*
Total Omega-6 Fatty Acids (Linoleic Acid, Octadecatetraenoic Acid, Arachidonic Acid. Eicosadienoic Acid)
130 mg
*
Total Omega-7 Fatty Acid (Palmitoleic Acid)
100 mg
*
Total Omega-9 Fatty Acids (Margaroleic Acid, Oleic Acid, Eicosatrienoic Acid, Gadoleic Acid, Erucic Acid, Nervonic Acid)
680 mg
*
Astaxanthin
6 mcg
*
*Daily Value not established.
† Percent Daily Values are based on a 2,000 calorie diet. Your Daily Values may be higher or lower depending on your calorie needs.
Other Ingredients: Fish Oil (100% wild Alaskan salmon), Botanical Antioxidant Stability System (extracts of rosemary, organic oregano, and organic sunflower oil), and tocopherol (Vitamin E).
Capsule: Gelatin, glycerin, and water. Naturally gluten free.
Our premium softgel capsules are prepared without any chemical solvents and are prion free.
*Not intended to diagnose or treat diseases or ailments, and is not reviewed by the FDA.
Uses & Indications.
100% Sustainably Caught Alaskan Wild Salmon Oil
Natural Source Of 16 Omegas + Vitamin D + Astaxanthin
Ailments & Concerns.
Compare to these:
---
Questions and answers:
Asked on:
November 26, 2012
Question: Gelatin source
Asked on:
January 16, 2013
Question: It is important to take these two fats in the preopr ratio as well. Omega-6 fatty acids compete with omega-3 fatty acids for use in the body, and therefore excessive intake of omega-6 fatty acids can be a problem. The U.S. diet has become heavy in omega-6 fats and low in omega-3 fats, secondary to a reliance on processed foods and oils. It is necessary to balance this by eating a low-fat diet that is low in processed foods and with fat mainly coming from omega-3 fatty acids.Answer omega 3.
Explore More Products