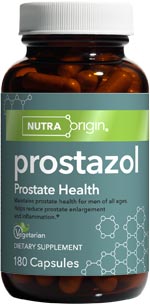 Full price 39.95
Savings 30%
Prostazol | Advanced Prostate Health (180 caps)*
| | |
| --- | --- |
| | Sorry! This item has been discontinued. See below. |
NutraOrigin
Prostazol | Prostate Health Formula
Prostazol is a prostate health supplement that works in multiple ways to promote a healthy prostate gland. The ingredients in this formula maintain normal prostate size, support a healthy urinary flow, provide protection to prostate cells, support a healthy response to inflammation, tonify the male reproductive system and neutralize harmful free radicals. Prostazol is perfect for maintaining prostate health for men of all ages.
As a young man, you probably didn't think about your prostate much. But as you get older, it may become impossible to ignore. About the size of a walnut, your prostate gland wraps around your urethra, the tube that carries urine from your bladder and out of your body. With age, your prostate can constrict your urethra, making urination difficult or uncomfortable.
The most important thing you can do to support the health of your prostate is to maintain a normal prostate size, which encourages a healthy urinary flow. Prostazol does that and more, including providing protection to prostate cells, supporting a healthy response to inflammation, acting as a tonic for the male reproductive system, and preventing free radical damage.
Packed with ingredients scientifically studied for efficacy, Prostazol contains:
Beta-sitosterol, flower pollen, pumpkin seed, saw palmetto, pygeum and stinging nettle have all been well-documented through human clinical trials to maintain normal prostate size and support a healthy urinary flow.
Population studies have linked consumption of green tea, lycopene, soy isoflavones and boron with improved prostate health, indicating these ingredients are all protective of prostate cells.
Numerous botanical ingredients, such as ginger, boswellia, myrrh gum and quercetin, have been shown through laboratory research to support a healthy response to inflammation.
Damiana and uva ursi are herbs traditionally used as tonics for the male reproductive system. Both contain a constituent called arbutin, which supports the health of the urinary tract.
Plant extracts such as rosemary extract and resveratrol, and minerals such as zinc and selenium, have powerful antioxidant activity that can protect cells from free radical damage.
Developed based on a thorough review of the scientific evidence, NutraOrigin's Prostazol, includes only ingredients with documented efficacy and safety, and contains no artificial colors, flavors or preservatives.
Supplement Facts
Prostazol
Serving Size: 6 Vegetarian Tablets
APS
%DV
Zinc (amino acid chelate)
10 mg
67%
Selenium (amino acid chelate)
100 mcg
143%
Boswellia Extract [standardized to 65% boswellic acid)
300 mg
**
Damiana
300 mg
**
Flower Pollen Extract
300 mg
**
Green Tea (Camellia sinensis) Extract (decaffeinated) [standardized to minimum 70% polyphenols] (leaf)
100 mg
**
Ginger Extract (certified organic, supercritical) [standardized to min. 20% pungent compounds and 4% zingiberene] (rhizome)
100 mg
**
Lycopene
50 mg
**
Myrrh Gum Extract 12:1
50 mg
**
Pumpkin Seed Oil Extract 4:1
200 mg
**
Pygeum Bark (Pygeum africanum) Extract [standardized to min. 13% sterols]
300 mg
**
Quercetin
500 mg
**
Red Clover Tops Extract 5:1
50 mg
**
Resveratrol
50 mg
**
Rosemary Extract [standardized to 20% diterpenes including 9% carnosic acid)
100 mg
**
Saw Palmetto Berry Extract (Serenoa repens) [standardized to 85%-95% fatty acids and biologically active sterol compounds]
330 mg
**
Soy Isoflavone Extract (Non-GMO) [standardized to 40% total isoflavones, including genistein, daidzein and glycitein]
200 mg
**
Stinging Nettle (Urtica dioica) Extract 16:1 (root)
900 mg
**
Uva-Ursi Extract (Arctostaphylos uva-ursi) [standardized to 10% arbutin] (leaf)
20 mg
**
Boron
3 mg
**
Beta-sitosterol
650 mg
**
Beta Glucan Extract
50 mg
**
** Daily Value not established
Other Ingredients: dicalcium phosphate, vegetable cellulose (capsule shell), magnesium stearate, silica.
Suggested use: Divide daily dose intake evenly with major meals. Consume immediately after meal or during the meal with a full glass of water (8oz). Consult with your doctor or healthcare practitioner before starting any nutritional dietary supplement program.
*Not intended to diagnose or treat diseases or ailments, and is not reviewed by the FDA.
Uses & Indications.
Supporting A Healthy Response To Inflammation
Providing Protection To Prostate Cells
Supporting A Healthy Urinary Flow
Maintaining Healthy Prostate Function & Size
Ailments & Concerns.
Enlarged Prostate Gland
Benign Prostate Hyperplasia (BPH)
Family History Of Prostate Disease
Weak Urinary Flow
Compare to these:
Explore More Products