Jarrow Formulas
Coconut Oil Extra Virgin (16 oz)
Jarrow FORMULAS® Extra Virgin Organic Coconut Oil from the fresh flesh of the coconut palm fruit, (Cocus nucifera) is unrefined and expeller-pressed in a controlled, indoor environment. This specific process does not utilize any solvents and preserves the volatile compounds responsible for imparting the rich, familiar flavor of coconuts. Coconut oil is a source of medium chain triglycerides (MCTs), such as lauric acid (C-12) and caprylic acid (C-8).Coconut oil is stable even during long periods of storage. Because its melting point is 75-76° F, coconut oil can be used in both liquid or solid forms for cooking and baking.
No Trans Fatty Acids (TFAs) - No Hydrogenation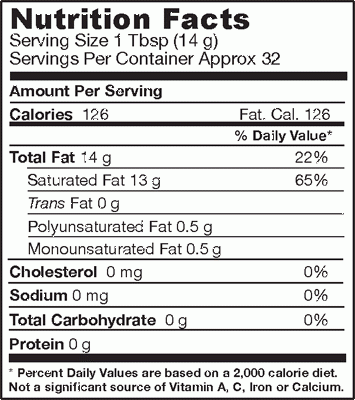 Source of Medium Chain Triglycerides
Compare to these:
---
Questions and answers:
Asked on:
August 28, 2015
Question: Can Coconut Oil be eaten as well as used as a skin moisturizer?
A: Yes, Jarrow formulas Extra Virgin Coconut Oil is from the flesh of the coconut palm fruit unrefined and cold pressed. No chemical solvents or preservatives added preserving the fresh tropical sent of the coconut, making this product edible and an amazing body oil. Cooking with coconut oil has become a staple for many due to it's unique combination of fatty acids called medium chain fatty acids. These are healthy fatty acids unlike saturated fats that cause coronary heart disease and related problems. MCF acids are easily digested and sent right to the liver for energy production and increase metabolism. Applying coconut oil topically to face and body acts as natural anti-fungal and anti-bacterial making coconut oil an excellent moisturizer for your skin and hair.
Explore More Products