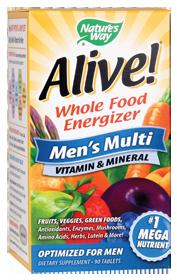 Full price 28.99
Savings 31%
Alive Men's Multi (90 tablets)
| | |
| --- | --- |
| | |
| | Buy 3 - Get free delivery on whole order |
Alive! Men's Multi (90 tablets)
Vitamin & Mineral / Whole Food Energizer
Whole Body Nourishment for Bones, Skin, Muscles, Joints, Digestion, Immunity, Heart, Vision, Nerves, Cellular Energy and Metabolism
with Extra Nutrients for Men's Health
Directions
Take three tablets daily
Ingredients
Amount/Serving
%DV
Calories
5

---

Total Carbohydrate
1g
<1%**

---

Dietary Fiber
<1g
2%**

---

Vitamin A
(30% (3,000 IU) as retinol palmitate, 70% (7,000 IU) as beta carotene) providing (typical analysis): beta carotene 3,937 mcg, gamma carotene 3.92 mcg, trans beta carotene 3.78 mcg, beta zea carotene 0.77 mcg
10,000IU
200%

---

Vitamin C (ascorbic acid)
300mg
500%

---

Vitamin D (as ergocalciferol)
800IU
200%

---

Vitamin E (as d-alpha tocopheryl succinate)
100IU
333%

---

Vitamin K (as phytonadione)
80mcg
100%

---

Thiamin (as thiamin mononitrate)
50mg
3,333%

---

Riboflavin (Vitamin B2)
50mg
2,941%

---

Niacin (as niacinamide)
100mg
500%

---

Vitamin B6 (as pyridoxine HCl/pyridoxal 5-phosphate)
50mg
2,500%

---

Folic Acid
400mcg
100%

---

Vitamin B12 (as cyanocobalamin)
500mcg
8,333%

---

Biotin (as biotin triturate)
300mcg
100%

---

Pantothenic Acid (as d-calcium pantothenate)
125mg
1,250%

---

Calcium (from Aquamin® calcified mineral source Red Algae Lithothamniom sp. [whole plant])
250mg
25%

---

Iron
370mcg
2%

---

Iodine (from pacific kelp powder)
150mcg
100%

---

Magnesium (from Aquamin® calcified mineral source Red Algae Lithothamnion sp. [whole plant], as citrate/oxide)
125mg
31%

---

Zinc (as amino acid chelate)
30mg
200%

---

Selenium (as L-selenomethionine)
200mcg
285%

---

Copper (as copper amino acid chelate)
4mg
200%

---

Manganese (as amino acid chelate)
4mg
200%

---

Chromium (as polynicotinate)
200mcg
167%

---

Molybdenum (as molybdenum triturate)
75mcg
100%

---

Sodium
15mg
1%

---

Potassium (as amino acid chelate)
50mg
1%

---

Green Food/Spirulina Blend
Spirulina (microalgae): Kelp (whole thallus); Alfalfa (leaf, stem); Barley Grass (grass); Dandelion (leaf); Wheat Grass (grass); Melissa (leaf); Lemon Grass (grass); Nettle (leaf); Blessed Thistle (stem, leaf, flower); Chlorella (broken-cell microalgae); Plantain (leaf); Blue Green Algae (microalgae); Cilantro (leaf)
400mg
*

---

Prostate Blend with Lycopene
Saw Palmetto (berry); Tomato extract (fruit) providing 2 mg of lycopene
108mg
*

---

Amino Acids:
(from Spirulina, Zinc AAC, Chlorella, Blue Green Algae, Boron AAC) (Glutamine, Asparagine, Leucine, Alanine, Arginine, Lysine, Threonine, Valine, Glycine, Isoleucine, Serine, Proline, Phenylalanine, Tyrosine, Histidine, Methionine, Tryptophan, Cysteine)
100mg
*

---

Energy & Endurance Blend with Rhodiola
Siberian Eleuthero (root); Rhodiola Rosea extract (root) standardized to 3% rosavins and 1% salidroside; Korean Ginseng (root); Gotu Kola (stem, leaf)
100mg
*

---

Cardiovascular Blend with Resveratrol
Pomegranate extract (whole fruit) standardized to 40% ellagic acid; Hawthorn (berry); Japanese Knotweed standardized to 50% resveratrol; Coenzyme Q10 (ubiquinone)
100mg
*

---

Garden Veggies™ Juice Powder Blend:
Parsley; Kale; Spinach; Wheat Grass; Brussels Sprout; Asparagus; Broccoli; Cauliflower; Beet; Carrot; Cabbage; Garlic
100mg
*

---

Orchard Fruits™ Juice Powder Blend:
Plum; Cranberry; Blueberry; Strawberry; Blackberry; Bilberry; Cherry; Apricot; Papaya; Orange; Grape; Pineapple
100mg
*

---

Organic Mushroom Defense Blend
Cordyceps; Reishi; Shiitake; Hiratake; Maitake; Yamabushitake; Himematsutake; Kawaratake; Chaga; Zhu Ling; Agarikon; Mesima
100mg
*

---

Digestive Enzyme Blend:
Concentrated Enzyme formula: (Protease I, Protease II, Peptizyme SP, Amylase, Lactase, Invertase, Lipase, Cellulase, Alpha Galactosidase); Betaine HCl; Bromelain (from pineapple); Papain (from papaya)
100mg
*

---

Inositol
50mg
*

---

Choline (as choline bitartrate)
30mg
*

---

Citrus Bioflavonoid Complex (from lemon, orange, grapefruit, and tangerine) providing: Eriocitrin 300 mcg; Naringin, Narirutin, other Flavones 900 mcg; Flavonols 300 mcg; Flavones and related phenolic compounds 300 mcg
30mg
*

---

Rutin
25mg
*

---

Boron (as amino acid chelate)
1mg
*

---

Hesperidin (from citrus bioflavonoid complex)
1mg
*

---

Lutein (from marigold)
200mcg
*

---
**Based on 2000 calorie diet.Other Ingredients: Vegetable modified cellulose, Vegetable modified cellulose gum, Vegetable stearic acid, Silica, Vegetable magnesium stearate, Vegetable glycerin

UPC Codes: 033674155424
Superior absorption from rapid disintegration tablets.
Optimized for Men formulated using whole green foods, fruits and vegetables, antioxidants, enzymes, mushrooms, amino acids, herbs, lutein and more.
Natural, Vegetarian Formula, No Yeast, No Milk, No Lactose or Sugar
Compare to these:
Reviews
Monday 13 February, 2017
I am glad that I started using the Alive Mens multi. I like this whole foods supplement. I felt I needed to add this because it offers prostate health along with bone and cardiovascular health. I have more energy since using this product. I also notice a difference in my digestive health.
---
Questions and answers:
Asked on:
April 3, 2013
Question: I'm staying in Durban where i can find this product?
A: Unfortunately we do not know of any stores that carry Alive Men's Multi locally in Durban, but like with all our supplements, you can purchase them online at Seacoast.com.
Asked on:
December 13, 2012
Question: I WANT TO INTRODUCE THIS PRODUCT INTO OUR MARKET IN GUINEA. MY ADDRESS IS mikemultygmail.comPLS SEND ME DETAILS FOR COMMERCIAL PURPOSES.RGDSMIKE UCHENNA
Asked on:
February 2, 2013
Question: best by date is old can it still be used
A:

Nature's Way assigns an expiration date to a product when the ingredients start to lose potency. We list this date on the bottom or the side of the bottle. It looks like your bottle is expired. At the time of the expiration date the product starts to break down and lose strength/potency. Most of Nature's Ways products do not become harmful but may not give you the results you are expecting after the expiration date.
Asked on:
March 12, 2013
Question: Will this increase the sex power
A: This supplement is whole food energizing supplement formulated specifically for men to give them the extra nutrients they may need. Unfortunately there are no specifics pertaining to sex power.
Asked on:
June 8, 2013
Question: will this product increase the weight ? if no ,then suggest the ayurvedic weight gainer..
A: Alive Men's Multi is specifically formulated for mens nutritional health providing the body the daily vitamins and minerals needed to n

ourish the Bones, Skin, Muscles, Joints, Digestion, Immunity, Heart, Vision, Nerves, Cellular Energy and Metabolism. We do however carry some weight gaining powders you may be interested in. You can view them below.

http://www.seacoast.com/topic.php?health=weight+gainer

Explore More Products