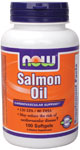 Salmon Oil (100 softgels 1000 mg)
Salmon Oil 1000 mg - 100 Gels
NOW Foods
Salmon Oil is a nutritional supplement that supplies Omega-3 fatty acids. Clinical studies have shown that Omega-3 fatty acids can support healthy circulatory systems.
From the FDA's website: "Consumption of omega-3 fatty acids may reduce the risk of coronary heart disease. FDA evaluated the data and determined that, although there is scientific evidence supporting the claim, the evidence is not conclusive (see nutrition information for fat content)".
Suggested Use: As a dietary supplement, take 2 softgels 2 to 3 times daily with meals.