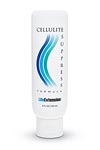 Full price 58.00
Savings 25%
Cellulite Suppress (6 Fl Oz) *
6 Fluid Ounces Fragrance-Free
Cellulite. It is amazing how one little word can sound so ugly to the ear. Add the word suppress after it and you've got something that sounds very appealing indeed. Virtually every woman is subject to cellulite after she begins menstruation. A woman's body naturally stores extra fat around the hips, thighs and buttocks. Consequently, these are the areas most affected by cellulite; that dimpled, uneven look of fat stored beneath the skin. There has been many a cream, massage technique and alternative diet plan which have, time and time again, failed to solve the cellulite dilemma. Life Extension has formulated a new kind of topical approach; one which comprises highly effective synergistic compounds found to help reduce the appearance of cellulite and prevent the formation thereof.
When it comes to the acts of metabolizing and storing fats, there are two main components to consider. Fat cells, known scientifically as adipocytes, have adrenergic receptors on their surfaces. There are two types of receptors: alpha-adrenergic and beta-adrenergic. With the help of the hormone Epinephrine, the beta-adrenergic receptors aid in the chemical breakdown of fats, and the alpha-adrenergic prevent this breakdown from taking place. Where cellulite is apparent, there is an imbalance of these receptors. Cellulite fat has more alpha receptors than beta, and is very difficult to "burn" indeed.
Cellulite Suppress from Life Extension is revolutionary in the sense that it has been formulated to help eliminate cellulite, penetrating the epidermis and targeting the layer of fat responsible for cellulite. But just how is this possible? The answer is in the ingredients. With Horse Chestnut and Gotu Kola, Cellulite Suppress helps improve circulation and enhances connective tissue integrity. Cellulite Suppress also contains Phycoboreane and Rhodysterol, two marine extracts found to be highly effective in stimulating the fat burning process lipolysis. But perhaps the main components to be recognized are Adiposlim and Adipoless. These two compounds work in a synergistic fashion to activate beta-adrenergic receptors and deactivate alpha-adrenergic receptors while inhibiting the development of newly formed fat cells.
Benefits:
Activates fat-burning beta receptors
Deactivates alpha-adrenergic receptors
Suppresses cellulite formation
Smoothes appearance of thighs, hips, and buttocks
Strengthens connective tissues
Improves circulation
Combats stress related fat deposition
Penetrates Epidermis
Ingredients: Water, Isododecane, Ethylhexyl Palmitate, Penthylene Glycol, Butylene Glycol, Glycerin, Hydroxyethyl Acrylate/Sodium, Acryloyldimethyl Taurate Copolymer, Caprylic/Capric Triglyceride, Gelidium Cartilagineum Extract (Rhodysterol), Laminaria Hyperborea Extract (Phycoboreane), Chenopodium Quinoa Seed Extract (Adipoless), Sorbitan Laurate and Lauroyl Proline (Adiposlim), Menthyl PCA, Centelia Asiatica Extract, Aesculus Hippocastanum (Horse Chestnut) Seed Extract, Leciithin (vegetable), Menthol, Glycryrrhetinic Acid, Sodium Hyaluronate, Disodium EDTA, Phenoxyethanol, caprylyl Glycol, Isoprene Glycol
No Animal Testing - Contains NO Parabens, Caffeine, Propylene Glycol, Gluten, Artificial colors, Yohimbee or Aminophylline
*Not intended to diagnose or treat diseases or ailments, and is not reviewed by the FDA.
Uses & Indications.
Improving Skin Tone
Improving Circulation
Burning Fat
Eliminating Cellulite
Ailments & Concerns.
Dull Skin
Thin Skin
Poor Circulation
Cellulite
Compare to these:
Explore More Products