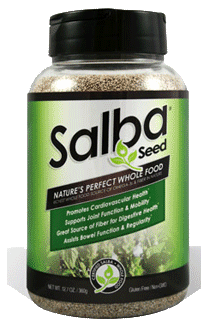 Full price 29.95
Savings 10%
Salba Whole Seed (16.0 oz.)*
price

Price is

too low

to show. Add it to your cart

Buy 3 - Get free delivery on whole order
16.0 oz.
Salba® is a registered variety of Salvia hispanica- an annual herb in the Mint family, native to the Valley of Mexico. Ancient cultures to that area and areas surrounding the valley depended on this Super Grain as a vital food source. Familiar phrases such as "Super Food," "Super Supplement" or "Whole Food" we recognize, but how about a "Super Grain?" A grain rich in nutrients including Omega-3's, Antioxidants, Calcium, Iron and so much more; one which benefits all areas of the body including the Cardiovascular & Digestive systems, in addition to enhancing brain and cognitive functioning, as well as helping to regulate appetite, blood sugar levels, and even mood.
Salba Whole Seed can be added to any dish or beverage without concern for taste alteration- Salba has a neutral herbal taste which does not affect or interfere with the original flavors of foods. Salba Whole Seed is best used in sauces & smoothies, and makes a wonderful addition to any salad, roast, or barbecue.
Gram for gram, Salba contains 8 x the amount of Omega-3 found in freshly cooked salmon, 6 x the amount of Calcium found in Whole Milk, and 4 x the amount of Fiber found in Flax Seed. Now that's what we at SeaCoast classify as a Super Food!
Benefits:
Non-GMO
Vegan
Kosher
Gluten-Free
Appetite Control
Heart
Digestion/Indigestion
Type II Diabetes
Sugar Cravings
Can be added to any food
Skin Integrity
Stamina
Regulates Bowel Functions
The list could continue for another 10 bullets or so; honestly, what areas doesn't Salba benefit?
Salba Whole Seed
Serving Size: 2 Tbsp
APS
%DV
Caolories / Calories from Fat
32 / 25
Total Fat
2.85 g
4.4%
Polyunsaturated Fat
2.42 g
*
Trans Fat
0 g
*
Total Carbohydrate
3.1 g
1.2%
Dietary Fiber
2.86 g
11.7%
Soluble Fiber
0.29 g
*
Insoluble Fiber
2.5 g
*
Sugars
0 g
*
Protein
1.75 g
Thiamin
0.06 mg
3.9%
Riboflavin
0.01 mg
0.9%
Folate (Folic Acid)
8.2 mcg
2.1%
Calcium
63 mg
5.9%
Iron
0.66 mg
3.7%
Magnesium
31 mg
7.6%
Selenium
<0.01 mg
Copper
0.1 mg
6.9%
Omega-3 Fatty Acids (Alpha Linoleic)
1,891 mg
*
Omega-6 Fatty Acids (Gamma Linoleic)
524 mg
*
Omega-9 Fatty Acids (Oleic)
173 mg
*
APS = Amount Per Serving
*% Daily Value (%DV) not established.
Ingredients: Whole Salba® (Salvia hispanica) Seed
*Not intended to diagnose or treat diseases or ailments, and is not reviewed by the FDA.
Uses & Indications.
Relieving Indigestion
Increasing Energy
Improving Skin Tone
Curbing Appetite
Regulating Blood Sugar
Regulating Bowel Movements
Ailments & Concerns.
Fatigue
Hyperglycemia
Hypoglycemia
Heart Disease
Aging Skin
Gas & Bloating
Obesity
Vitamin Deficiency
Dry Skin
Constipation
Diabetes
Compare to these:
Reviews
Thursday 18 August, 2011
I,VE ONLY BEEN ON THIS PRODUCT FOR A WEEK SO I CAN'T TELL YOU ANYTHING POSITIVE, BUT IT IS EASY TO USE AND TASTES GOOD.
Monday 04 January, 2010
Great Stuff! I've been using it for one month and I feel that something positive is happening with my body. Joint pain is lessened and energy levels are higher.
Explore More Products