Best D-Ribose featuring BioEnergy Ribose (120 vegi capsules)
Doctor's Best - Science Based Nutrition
Best D-Ribose featuring BioEnergy Ribose
Ribose is an essential pentose (5-carbon) sugar utilized by the body to synthesize DNA,RNA and produce energy. (Ribose is a sugar distinct from glucose. It does not raise blood sugar levels or lead to diabetes.) Ribose is a fundamental building block of adenosine triphosphate (ATP - the substance in which the body stores intracellular energy), the preferential source of energy for skeletal muscle and heart tissue. Studies have shown that ribose supplementation can enhance cardiac energy levels and support cardiovascular metabolism.* Further studies suggest that ribose plays a role in supporting energy recovery after exercise.* Exercise increases free radical production in muscle tissue. Ribose may strengthen and support the body's crucial antioxidant defenses.*
Research suggests that optimal heart function requires a consistent supply of essential cofactor nutrients including CoQ10, D-ribose, L-carnitine and Magnesium. Consider these other high quality Doctor's Best products in combination with Best D-Ribose for enhanced cardiovascular support: High Absorption CoQ10, High Absorption Magnesium, and Best L-Carnitine Fumarate.
Caution: Insulin-dependent diabetics and pregnant women should consult their physician before use.
Use of BioEnergy Ribose is licensed by BioEnergy Life Science, Inc. under U.S. Patents 6,159,942; 6,534,480; 6,218,366; 6,339,716, and other U.S. and foreign patents issued and pending.
SKU: DRB-00193
UPC: 753950001930
Distributed or manufactured from Doctor's Best. See more
Doctor's Best
products.
Login for Details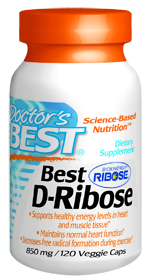 FREE SHIPPING
Compare to these:
Explore More Products