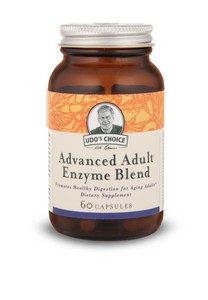 Full price 28.99
Savings 7%
Udo's Advanced Adult Enzyme Blend (60 v-capsules)
| | |
| --- | --- |
| | Buy 3 - Get free delivery on whole order |
Flora Health - Udo's Choice
Advanced Adult Enzyme Blend
For seniors and adults with compromised digestion.
Specially formulated to alleviate the digestive problems associated with aging and maximize nutrient absorption for optimal health.
Suggested use:
Take one capsule 15 minutes before meal . For heavy meals, take an additional capsule during the meal. Store in a cool, dry place.
EACH CAPSULE CONTAINS:
INGREDIENTS:
Amylase: 5,000 DU
Protease 4.5: 14,000 HUT
Protease 6.0: 10,000 HUT
Alpha-galactosidase: 175 GalU
Bromelain: 500,000 FCC PU
Protease 3.0: 15 SAPU
Glucoamylase: 8 AGU
Peptidase: 2,000 HUT
Lipase: 325 FIP
Malt diastase: 300 DPo
Invertase: 150 SU
Protease (A. niger): 399.3 BLGU
Protease (A. oryzae): 230.5 BLGU
Lactase: 1,000 .4 ALU
Cellulase: 275 CU
Beta-glucanase: 10 BGU
Hemicellulase: 758 .8 HCU
Phytase: 1.9 FTU
OTHER INGREDIENTS:
Microcrystalline cellulose, magnesium stearate and maltodextrin in a vegetarian capsule made of water and hypromellose (USP).
CAUTION: Consult a health care practitioner prior to use if you are taking any other natural health products, prescription medications or if you have a medical condition. Keep out of reach of children. Enzymes are heat sensitive. Do not take them with very hot items. May irritate an existing ulcer.
Compare to these:
Explore More Products