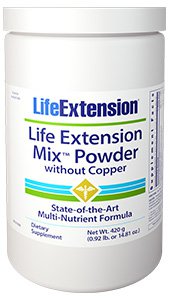 Full price 80.00
Savings 25%
Life Extension Mix Powder w/Stevia without Copper (14.81 oz)*
price

Price is

too low

to show. Add it to your cart

Buy 3 - Get free delivery on whole order
Mixed Powder without Copper 14.81 oz (420g)
Life Extension Mixed Powder provides a full spectrum of nutrients to nourish the whole body.
SUPPLEMENT FACTS
Serving Size 3 scoops (12 grams) (per day)
Servings Per Container 35
Amount Per Serving
Vitamin A (as 90% Betatene®1 D. salina natural beta-carotene with mixed carotenoids and 10% acetate)
5000IU
Vitamin C (as calcium ascorbate, ascorbic acid, ascorbyl palmitate, magnesium ascorbate, niacinamide ascorbate, acerola extract)
2000 mg
Vitamin D3 (as cholecalciferol)
2000 IU
Vitamin E (as D-alpha tocopheryl succinate)
100 IU
Thiamine (vitamin B1) (as thiamine HCI)
125 mg
Riboflavin (vitamin B2) (with 2 mg riboflavin 5'-phosphate coenzyme)
50 mg
Niacin (vitamin B3) (as 53% niacinamide, 38% niacin, 9% niacinamide ascorbate)
190 mg
Vitamin B6 (as 100 mg pyridoxal 5'-phosphate coenzyme and 5 mg pyridoxine HCI)
105 mg
Folate [from lemon (Citrus limon) extract (peel)]

400mcg
Vitamin B12 (as 42% cyanocobalamin, 42% hydroxylcobalamin, 16% ion exchange resin)
600mcg

Biotin

3000mcg
Pantothenic acid (as D-calcium pantothenate with 5 mg pantethine)
600 mg
Calcium (as calcium ascorbate, D-calcium pantothenate, Calcium D-Glucarate2)
218 mg
Iodine (as potassium iodide)
150 mcg
Magnesium (as magnesium oxide, citrate, glycinate taurinate, arginate, ascorbate)
400 mg
Zinc (as OptiZinc®3 zinc monomethionine, zinc succinate)
35 mg
Selenium [as 50% Se-Methyl L-Selenocysteine, 25% L-selenomethionine (yeast free) (SelenoPure™4), 25% sodium selenate]
200 mcg
Manganese (as manganese gluconate)
1 mg
Chromium [as Crominex®5 3+ chromium stabilized with Capros® (Phyllanthus emblica) extract (fruit) and PrimaVie® Shilajit]
500 mcg
Molybdenum (as sodium molybdate)
125 mcg
Potassium (as potassium chloride)
37.4 mg
N-acetyl-L-cysteine (NAC)
600 mg
Taurine
200 mg
Inositol
250 mg
Phosphatidylcholine (from soy)
150 mg
Choline (as choline bitartrate)
120 mg
Boron (as boron citrate/aspartate/glycinate complex)
3 mg
Ascorbyl palmitate (fat-soluble vitamin C)
250 mg
para-Aminobenzoic acid (PABA)
200 mg
Trimethylglycine (TMG) (as betaine anhydrous) (from sugar beets)
100 mg
Citrus bioflavonoid complex (Citrus aurantium L.) (peel and fruit) [std. to 50% hesperidin (100mg)]
200 mg
Broccoli sprout concentrate (A proprietary blend of broccoli sprout concentrates and Calcium D-Glucarate2) (providing glucosinolates, sulforaphane, D-3T, PEITC)
525 mg
Calcium D-Glucarate2
200 mg
Decaffeinated green tea (Camellia sinensis) extract (leaf) [standardized to 45% epigallocatechin gallate (EGCG) (146.25 mg)]
325 mg
Acerola (Malpighia punicifolia) extract 4:1 (berry)
300 mg
Ginger (Zingiber officinale) extract (root) [standardized to 5% gingerols (10 mg)]
200 mg
HiActives®13 100% fruit/berry complex (proprietary blend of concentrated blackberry, blueberry, cherry, cranberry, elderberry, persimmon, prune powders)
200 mg
Wild blueberry (Vaccinium angustifolium) standardized anthocyanin extract (fruit)
150 mg
Milk thistle (Silybum marianum) extract (seeds) [standardized to 85% silymarin (85 mg)]
100 mg
Maqui berry (Aristotelia chilensis) anthocyanin extract (fruit)
100 mg
Tart cherry (Prunus cerasus) proanthocyanidin extract (skin and pulp)
85 mg
POMELLA®10 pomegranate (Punica granatum) extract (fruit) [std. to 30% punicalagins (25.5 mg)]
85 mg
MirtoSelect®12 bilberry (Vaccinium myrtillus) extract (fruit)
30 mg
Leucoselect®6 grape seed (Vitis vinifera) proanthocyanidin extract (seeds)
25 mg
BioVin®7 grape (Vitis vinifera) proanthocyanidin extract (whole grapes)
25 mg
Bromelain (from pineapple) (Ananas comosus) (stem) (2400 gelatin digestive units per gram)
15 mg
Lutein [from marigold (Tagetes erecta) extract (flower)] (providing 465 mcg trans-zeaxanthin)
15 mg
Olive juice (Olea europea) extract (fresh fruit) (providing polyphenols, hydroxytyrosol, tyrosol and oleuropein)
12.5 mg
Sesame seed (Sesamum indicum) lignan extract
10 mg
Luteolin [from Pureolin™8 (Cynara cardunculus) extract (leaf)]
8 mg
Lycopene [from Tomat-O-Red®9 natural tomato extract (fruit)]
3 mg
Cyanidin-3-glucoside (C3G) [from black currant (Ribes nigrum) extract (fruit)]
1.25 mg
trans-Pterostilbene (as pure Pterospan™11 and SMART™11 pterostilbene)
0.5 mg
Other ingredients: maltodextrin, natural orange flavor, stevia extract, silica.

Contains soybeans. Contains corn and sesame.
DOSAGE AND USE
Take three scoops per day in divided doses with meals, or as recommended by a healthcare practitioner.
Powder may not completely dissolve.
CAUTION

Temporary flushing, itching, rash, or gastric disturbances may occur. Liver function testing is recommended when niacin is taken in excess of 500 mg daily. Those with gout or liver diseases should avoid taking high doses of niacin. Consult with your doctor before using this product if you are taking anticoagulant medications. Individuals consuming more than 2,000 IU/day of vitamin D (from diet and supplements) should periodically obtain a serum 25-hydroxy vitamin D measurement. Vitamin D supplementation is not recommended for individuals with hypercalcemia (high blood calcium levels).
*Not intended to diagnose or treat diseases or ailments, and is not reviewed by the FDA.
Uses & Indications.
Additional Daily Nutrition For Optimal Health
Ailments & Concerns.
Compare to these:
Explore More Products