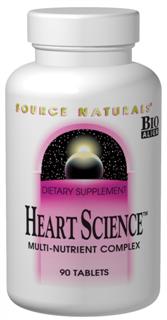 Full price 65.50
Savings 30%
Heart Science (120 tabs)*
| | |
| --- | --- |
| | Sorry! This item has been discontinued. See below. |
Source Naturals
Heart Science
Heart Science is a Bio-Aligned formula for the support of normal heart function and blood circulation. Heart Science supports energy generation, homocysteine regulation, electrical rhythm, antioxidant protection, and blood vessel integrity. Heart Science supplies coenzyme Q10, which may help regulate the metabolism of the myocardium, or heart muscle. It contains potassium and magnesium, electrolytes vital for healthy heart function, and the herb hawthorn, a rich source of flavonoids, which is a traditional heart tonic. It also provides vitamins B-6, B-12 and folic acid, which help maintain healthy homocysteine levels; vitamin E, a cardioprotective antioxidant; and the amino acid L-carnitine, which promotes beta-oxidation of fatty acids, an important source of energy for the heart.
Suggested Use:3 to 6 tablets daily with a meal.
Supplement Facts
Heart Science
Serving Size:6 tablets
APS
%DV
Calories
30
Calories from Fat
10
Total Fat
1g
<2%
Saturated Fat
1g
<4%
Sodium
20mg
<2%
Total Carbohydrates
1g
<2%
Dietary Fiber
1g
4%
Vitamin A (as beta carotene)
25,000IU
500%
Vitamin C (as ascorbic acid)
1,000mg
1,670%
Vitamin E (as vitamin E succinate & gamma-vitamin E complex)
400IU
1,330%
Thiamin (vitamin B-1)
50mg
3,330%
Nicotinic Acid (B-3) (as inositol nicotinate)
500mg
2,500%
Vitamin B-6 (as pyridoxine HCl & pyridoxal-5'-phosphate [Coenzymate(TM)])
50mg
2,500%
Folate (as folic acid)
800mcg
200%
Vitamin B-12 (as methylcobalamin & dibencozide)
500mcg
8,330%
Magnesium (as magnesium oxide)
300mg
80%
Selenium (as L-selenomethionine)
200mcg
290%
Copper (as copper sebacate)
750mcg
40%
Chromium (as chromium polynicotinate [Chromemate(r)] 150 mcg & picolinate 150 mcg)
300mcg
250%
Iron
360mcg
2%
Potassium (as potassium citrate)
99mg
2%
L-Arginine HCl
500mg
0
Bromelain (2,000 G.D.U. per gram)
500mg
0
L-Taurine
500mg
0
L-Carnitine (as L-carnitine fumarate)
400mg
0
L-Lysine (as lysine HCl)
400mg
0
L-Proline
400mg
0
gamma-Vitamin E complex
400mg
0
Hawthorn Berry Extract (4:1)
200mg
0
Hawthorn Leaf & Flower Extract (4:1)
200mg
0
Inositol (as inositol hexanicotinate)
140mg
0
Grape Seed Extract (Proanthodyn(tm))
120mg
0
N-Acetyl Glucosamine
100mg
0
Turmeric Rhizome Extract (95% curcumin)
100mg
0
Genistein-Rich Soy Concentrate Yielding 40 mg Total Isoflavones
100mg
0
Trimethylglycine (TMG)
100mg
0
Horsetail Aerial Parts Extract (7% silica)
100mg
0
Arjuna Bark Extract (0.5% arjunolic acid)
100mg
0
alpha-Lipoic Acid
100mg
0
Coenzyme Q10
60mg
0
Garlic Clove (standardized to 8,000 ppm allicin)
60mg
0
Ginkgo Leaf Extract (50:1) 24% Flavoneglycosides
60mg
0
Quercetin
50mg
0
Superoxide Dismutase/Gliadin Complex (GliSODin(r))
50mg
0
Total Resveratrols (from Polygonum cuspidatum)
40mg
0
Nattokinase (NSK-SD(tm))
36mg
0
Salvia Root Extract (MVS-60(r)) (60% magnesium salvianolate B)
30mg
0
Guggul Gum Extract (10% guggulsterones)
30mg
0
Myricetin
25mg
0
Tocotrienol Complex (Tocomax(r))
20mg
0
Other Ingredients:stearic acid, modified cellulose gum, colloidal silicon dioxide, and magnesium stearate.
Contains shellfish (shrimp/crab), wheat/gluten and soy.
Warning:Do not take if you are allergic to wheat or gluten or if you have a blood coagulation disorder or if you are pregnant, may become pregnant, or breastfeeding. Consult your health care professional before using if you are taking any drugs that effect blood coagulation such as perscription vitamin K, or Warfarin (Coumadin) or heparin.
Do not use if either tamper-evident seal is broken or missing. Keep out of the reach of children.
Compare to these:
Explore More Products