(400 mg 130 capsules), Power Organics

From $29.33

40% Off
Klamath Blue Green Algae contains a high percentage of usable protein plus a complete range of vitamins unusual for any single food source.
Protein deficiency
Udo's Choice The Father of Flax Oil
Udo's Choice Oil Blend is a perfectly balanced organic blend of oils, from fresh flax, sesame and sunflower seeds, as well as oils from evening primrose, rice germ and oat germ.
ThreeLac Probiotic | Friendly Flora
Experience the power of ThreeLac, the proprietary Probiotic that is getting celebrity praise everywhere. Formulated with three very effective types of proactive bacteria, ThreeLac contributes to the health and balance of the intestinal tract, helping to fight against illness and disease.
(90 Capsule - Veg), Country Life

From $11.48

47% Off
Country Life Yohimbe Power 1000 has been produced using its own patent pending Phospho-Zyme Delivery System. This system assists in the utilization of the volatile herbal components. Contains all active plant components in their natural balance.
Men's Health & Well Being
(60 tablets), The Synergy Company

Less than $22.95

Too low to show!
Essential for combating daily stress, Organic Super B-Complex features a perfectly balanced blend of organic , whole food B vitamins and co-factors just as nature intended. Offers exceptional value with 60 tablets per bottle and just one tablet daily (less than 40 cents per day!)
Benefits
(225 Grams ), HealthForce Nutritionals

Less than $89.95

Too low to show!
Elixir of the Lake is 100% Wildcrafted, Organic and TruGanically (higher standard than Organic) grown Pure Klamath Blue-Green Algae from Klamath Lake in Oregon.
HealthForce Nutritionals
(120 tablets), The Synergy Company

Less than $34.95

Too low to show!
Synergy Company Organic Prenatal Multivitamin blends certified organic whole food nutrients with organic sprouts, berries, ginger and red raspberry leaf creating a whole-food vitamin and mineral rich formula nourishing moms and growing babies alike.
Organic
(150 gr), The Synergy Company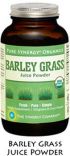 Less than $22.57

Too low to show!
Pure Synergy Organics Barley Grass Juice Powder is a 100% naturally occuring source of healthful phytonutrients including SOD, enzymes and chlorophyll. Organically grown and cold-processed in the USA. Shop Today at Seacoast.com!
150 gr