Jarro Dophilus Ranked #1 in Sales
Jarro-Dophilus Enhanced Probiotic System (EPS) s the best probiotic to promote healthy intestinal microflora and support immune function.
(500 mg, 100 caps), Life Extension

Less than $25.50

Too low to show!
Acetyl-l-carnitine is an amino acid shown to lower the increased oxidative stress often associated with aging.
Memory Loss
Udo's Choice The Father of Flax Oil
Udo's Choice Oil Blend is a perfectly balanced organic blend of oils, from fresh flax, sesame and sunflower seeds, as well as oils from evening primrose, rice germ and oat germ.
(120 tabs), Pure Essence Labs

Less than $46.14

Too low to show!
Contains a full spectrum, Whole Foods based Vitamin and Mineral Supplement, a Complete Skeletal Support System and a Unique Menopause Herbal product, making ProFema the most complete menopause supplement ever offered.
Mood Swings
Omega-3 Fatty Acids | Barleans Omega Swirl and You
Rich in vital and essential Omega-3 fatty acids, Barleans Omega Swirl flax and fish oil supplements are the freshest, best tasting and most nutritious, naturally. Barleans Omega Swirl is the perfect solution for the whole family!
Superfood Powder (12.5oz), The Synergy Company

From $50.92

15% Off
The Original Organic Superfood Since 1977 The original formula developed by Mitchell May blends 60 of the most vitalizing and nutrient-rich whole foods into an organic superfood of perfect nutritional potency.
Buy
Organic Superfood Powder (5 oz), The Synergy Company

Less than $27.95

Too low to show!
Pure SynergySuperfood Powder has received many positive testimonials and reviews by renowned artists and poets, scientists and philosophers, guru's and nutritional experts.
Superfoods
(270 vcaps) SuperFood Formula, The Synergy Company

From $33.98

24% Off
Nourish and enhance your life experience. Pure Synergy is made from certified organic herbs, vegetables and fruits. Premium superfood powder.
Raw Foods
( 210 gr), The Synergy Company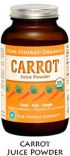 Less than $30.92

Too low to show!
Pure Synergy Organics Carrot Juice Powder is packed with enzymes, antioxidants, phytonutrients, and vitamins and minerals. Carrot juice fuels our core life-giving processes and supports radiant good health. Shop Today at Seacoast.com!
Chemical-Free