(100 caps), Christophers Original Formulas

From $11.56

34% Off
Dr Christopher's Herbal Calcium is a product that is designed to give your body the calcium it needs, herbally
Bone Support
(4oz), Christophers Original Formulas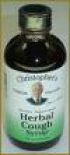 From $12.21

34% Off
Dr Christopher's Herbal Cough Syrup is a product designed to help prevent and alleviate coughing and sore throat.
Herbal Cough Syrup
(3.4oz), Medical Futures Inc
From $26.99

45% Off
Iberogast by Medical Future's is a Herbal Supplement for the Treatment of Irritable Bowel Syndrome (IBS). Useful for Dyspepsia, Heartburn, Gas & Bloating, Stomach Pain, Nausea, Diarrhea and Constipation.
Improving Motility
(90 tabs), Seacoast Vitamins

From $9.69

25% Off
Seacoast Natural Foods Herbal PassageNew Formula - Each capsule contains a 575 mg Proprietary Blend of: Cascara Sagrada, Ginger Root, Triphala ( ayuervedic blend), Fennel, Oregon Grape Root, Bayberry, Slippery Elm, Fennugreek and Irish Moss
Herbal Passage
(1 oz), Christophers Original Formulas

From $10.75

34% Off
Bayberry Bark, Eyebright Herb, Goldenseal Root, Red Raspberry Leaf & Cayenne Pepper in a base of pure grain alcohol
Buy
(90 tabs), Enzymatic Therapy

From $22.91

40% Off
Cholesterol Shield - Enzymatic Therapy, Proven to help reduce Cholesterol 90 Tablets, Support Heart Health
Hypertension
(120 Vcaps) Herbal Colon Cleanser, Roex

From $18.19

46% Off
Wow Internal Cleanse from Roex is a proprietary blend of herbs to help cleanse the intestines, therefor promoting healthy digestion & absorption.
Decreasing Body Fat
(1 fl oz), Natural Factors

Less than $9.57

Too low to show!
Natural Factors Bee Propolis Throat Spray is a special blend that contains Echinacea purpurea and other herbs to soothe a scratchy raw throat.
Buy
(100 caps), Christophers Original Formulas

From $19.04

34% Off
Dr Christophers Female Reproductive Formula Helps Promote Healthy Hormonal Balance. Herbal formula to relieve symptoms associated with PMS.
Herbal Formulas
-