(60 tabs), Natural Balance

From $16.53

34% Off
Super Flex Back Formula offers a blend of natural ingredients that alleviate pain and soreness from stiff muscles, reducing inflammation and contributing to increased mobility and flexiblity.
Pain Relief
(120 Tab), Natural Balance

From $24.61

34% Off
Super Flex Joint Formula from Natural Balance provides nutritive support for healthy joints and muscle tissue.
Increasing Flexibility
Review
BRAIN ACTIVITY W.R.T.MEMORY RECEPTOR & REPRODUCING ABILITY.
Review
Nothing could help me relieve those menstrual cramps. But taking Super Flex Back Formula, help me a lot, to relieve my difficult or painful periods.
Review
THis wonderful product has given me back my hands, my grip and my ability to carry on activities of daily life. Thank you!
Review
I have been using Natural Balance Super Flex Joint formula for years. It helps keep my knees from being painful. I always look on the internet for the best price and Seacost Vitamins.com had the best price. I ordered online and had my order within 2 days. I cannot believe how quickly I got my order. Thank you Seacost Vitamins!!
Review
I think that you find that your overall ability to handle stress will be better after taking Happy Camper. I am generally more friendly and relaxed on days that I take Happy Camper.
(16 fl oz), NOW Foods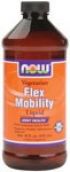 From $13.09

47% Off
NOW Vegetarian Flex Mobility Liquid is a 100% vegetarian joint support formula featuring FlavanFlex, a patented herbal extract that has been scientifically shown to support a healthy inflammatory response through its effects on COX and LOX enzyme activity.
Joint Mobility
Review
I started out with the recommended dosage and had zero effects. I gradually increased the dosage and eventually took seven pills at 185 grams before noticing some effect. effect was somewhat pleasurable but did not notice any improvement in my ability to focus. Also felt like my face was a little flushed but did not experience any rise in bp. Which is a plus. The verdict is still out for me. I will give it some more time to see if my ability to focus improves.
Review
I think this really helps my sons have a greater ability to focus and be less flighty. I especially notice this improvement when we've run out of the Learning Factors and they've gone a couple weeks without it! My 7 y.o.'s teacher really notices, too, and reports higher incidences of poor behavior when he stops taking it.
(150mg - 90 capsules), Doctor's Best
From $13.73

50% Off
Suntheanine L-theanine is best known for its unique ability to increase relaxation without causing drowsiness.
Improving Cognitive Function