(180 Tabs), Trace Mineral Research

From $27.16

36% Off
May increase energy and vitality nourishing the body with a comprehensive blend of essential vitamins & minerals.
Trace Mineral Research
(120 tabs), The Synergy Company

Less than $47.95

Too low to show!
Vita-Min-Herb for Men is a powerfully restorative and deeply nourishing formula with a potent array of organic ingredients all designed to maximize ongoing energy, vitality, and lifelong well-being.
Non-GMO
(120 tabs), The Synergy Company

Less than $47.95

Too low to show!
Whole food multi-vitamin for women Made with Organic Ingredients. Gluten free, Non-GMO and no additives.
Fatigue
(120 caps), Emerald Labs

Less than $29.96

Too low to show!
Therapeutic dosages of more than 50 premium, hi-potency Vitamins, Minerals, Antioxidants, Coenzymes, Carotenoids and Tocotrienols.
Benefits
(min. 6 (60 Caps), NOW Foods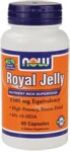 From $11.17

41% Off
Royal Jelly is a natural source of many nutrients. Royal Jelly is the only food for the Queen Bee and it enables her to outlive worker bees thirty fold! The Queen Bee is also very fertile, laying up to 2,000 eggs each day throughout her life. This Royal Jelly has been freeze-dried to maintain maximum stability and is among the finest products available. 10-HDA (10-hydroxy-trans-2-decenoic acid) is one of the active, measurable components of Royal Jelly.
NOW Foods
(120 vegetarian capsules), Emerald Labs

Less than $33.72

Too low to show!
Whole Food based Daily Vitamin & Mineral for Women with higher levels of Potassium, vitamins K1 and K2 for Bone, Heart and Hormone Support.
Benefits
(120 vcaps), NOW Foods

From $9.99

41% Off
Supports Cognitive Function* 24% Standardized Extract Vegetarian Formula NOW Ginkgo Biloba is grown and extracted under the highest quality standards and is standardized to min. 24% Ginkgoflavonglycosides and min. 6% Terpene Lactones, including Ginkgolide B, the most significant fraction, and Ginkgolies A, C and Bilobalide. Our Ginkgo Biloba Extract is the finest quality available worldwide. Scientific research has demonstrated that Ginkgo Biloba Extract has antioxidant activity in in vitro studies.* Related Products
Benefits
Review
Well, I have just 3 days using it and nothing. Not a gram. I'm also doing 30 min aerobics everyday. So I don't blame the product. Does anybody know why I can't lose weight with all of this. I mean, exercising and taking fat burners and still in the same weight. What's wrong with me?
(30 softgels), NutriCology

From $11.34

44% Off
This softgel formulation provides the highest potency gamma-linolenic acid (GLA) from borage oil. GLA is an omega-6 fatty acid and is considered a nutrient and semi-essential fatty acid. Borage oil is a potent GLA source, having the highest GLA content (23% min.) of any available oil.
NutriCology
Review
Steve, How can i get more energy? I run for the past 8 mohnts 25 min 6 days a week.I tried everything, i eat 2 hours before running, or i drink plenty of water, or drink lots of juices, or resting, or eating more carbs before running , or eating more protein before running, i pretty much tried everything but no herbal pills. When i run i get tiered quickly and i feel very heavy. i love running and i gave it time to see if i would improve but nothing.im 34 yrs old weight 180 lbs ,height 5'10 GD Star Ratingloading...GD Star Ratingloading...
Review
Wow! It's working. Last year I suffered the worst allergies I've ever had. I live in the south where everything has heavy pollens for 8 months of the year. I've been referred to 3-doctors who put me on a total of 5 different medicines PLUS steriods (THE HEAVY duty regiment for Industrial or Extreme Rhynitis) to help me breath and still I was only able to get 2-3 hours of sleep a night due to the extreme conditions. Summer conditions started 2 months earlier this year (2008). I couldn't bear to think of the suffering that was starting already. So I gave it a try. I'm impressed! It may not work for everyone, but for me it has done wonderfully. I have noticed one small detail, it does not build up in the system, therefore you must remember to take each of the tablets around the same time for it to carry over to the next dose. I saw a difference in 3 days. I take one tablet in the morning, at lunch and 30 min. before I go to bed. Do I recommend it? You Bet I DO! It worth trying.